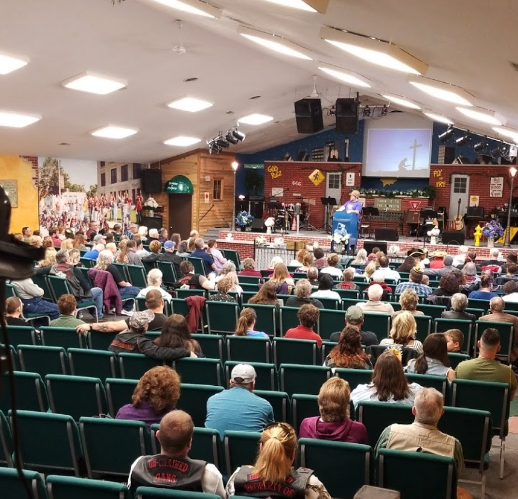 UnChained Ministries Inc. was formed in 1975 by founder and President Carl Beadle, from Dugger Indiana. It was primarily street ministry in its early years. A few boys found themselves in the local Greene Country jail and Carl went to minister to them… at that moment Carl knew that he was called into Jail and Prison Ministry.
After several years of working in the prisons, jails, and street several bikers were coming to the Saving Grace of the Lord Jesus Christ and joining the ministry. So in May 1988 Carl and Larry Mitchell, along with three others, formed an outreach of UnChained Ministries INC called the "UnChained Gang Motorcycle Ministry."
If you are interested in participating in this ministry please contact the church office or the UnChained Ministries.
APOSTLE AND FOUNDER CARL BEADLE 
Unchained Ministries, Inc
1448 S. County Rd. 900E.
Dugger, IN 47848
812-648-2137
ncbeadle1936@yahoo.com
PASTOR  LARRY MITCHELL
PRESIDENT OF UNCHAINED MINISTRIES, INC.
PO BOX 88
Ellettsville, IN 47429
pastormodo@gmail.com
PASTOR MIKE LONG
NATL. VICE-PRESIDENT UNCHAINED GANG, MM
206 Heartland Drive
Shelbyville, IN 46176
317-540-2804
mikeunchained@yahoo.com
DANNY BRINEGAR
President of Greene Co. Chapter
8122 E. Sylvania Rd.
Bloomfield, IN. 47424
C: 812 -340-0361
dannybrinegarmclp@gmail.com
TOM  PHILLIPS 
President of Monroe Co. Chapter
2713 S. Rogers St.
Bloomington, Ind. 47403
812 – 325 — 1292
trphillips@yahoo.com
Even them will I bring to my holy mountain, and make them joyful in my House of Prayer: their burnt offerings and their sacrifices shall be accepted upon my altar; for my house shall be called a House of Prayer for all people.
Isaiah 56:7