H.O.P.E. FOR MARRIAGE CLASS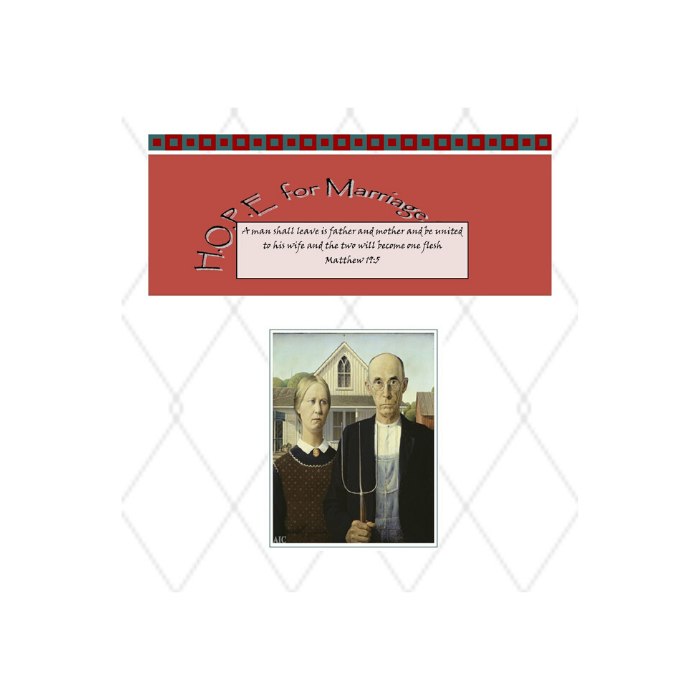 CONTACT: PASTOR TONY & VICKY STANGAS
812-876-9002 
Marriage is the perfect institution designed by God. It is designed to be the best thing that can happen to us other than receiving Christ as our savior. The HOPE marriage class is designed to "bottom line" make marriages better. No matter if you are presently married or planning one day to be married, this class will help you. How can we be so sure that your marriage will get better? Because the Word of God is taught concerning marriage. And we all know that God's Word always prospers where He sends it. The Word will bring change.
If you want your husband to be more sensitive, caring and considerate, a better listener and communicator, putting your needs before his own, then sign up for this class!
If you want your wife to be more supportive, uplifting, and understanding, your best friend and lover, putting your needs before her own, then sign up for this class!
Men and women are not only different physically, but also different mentally and emotionally. This class will help you understand these differences and see that God made us different on purpose. He did that so that when we come together in marriage we are then made one, "the TWO shall become ONE flesh" Genesis 2:24.
Even them will I bring to my holy mountain, and make them joyful in my House of Prayer: their burnt offerings and their sacrifices shall be accepted upon my altar; for my house shall be called a House of Prayer for all people.
Isaiah 56:7